Currently exhibited works: "Simone Weil-Map" (2020) – HGB gallery, Leipzig; "Sas de Contamination" (2000) – Collection Lambert, Avignon; "Touching Reality" (2007) –

Kunsthaus Graz

; "Pixel-Collage n°86" (2018) and "Blurry Sides" (2021) – MAXXI, Rome; "Power Tools" (2007) – Helga de Alvear Museum, Cáceres; "Break-Through n°5" (2013) – Chiostro del Bramante, Rome; "Simone (Chat-Poster)" (2020) – Museum Stift Stams, Innsbruck

"#Believe" (2022) on view at Art Basel Miami Beach, Galerie Chantal Crousel, Booth D18n / December 1st — 3rd, 2022 / Infos: HERE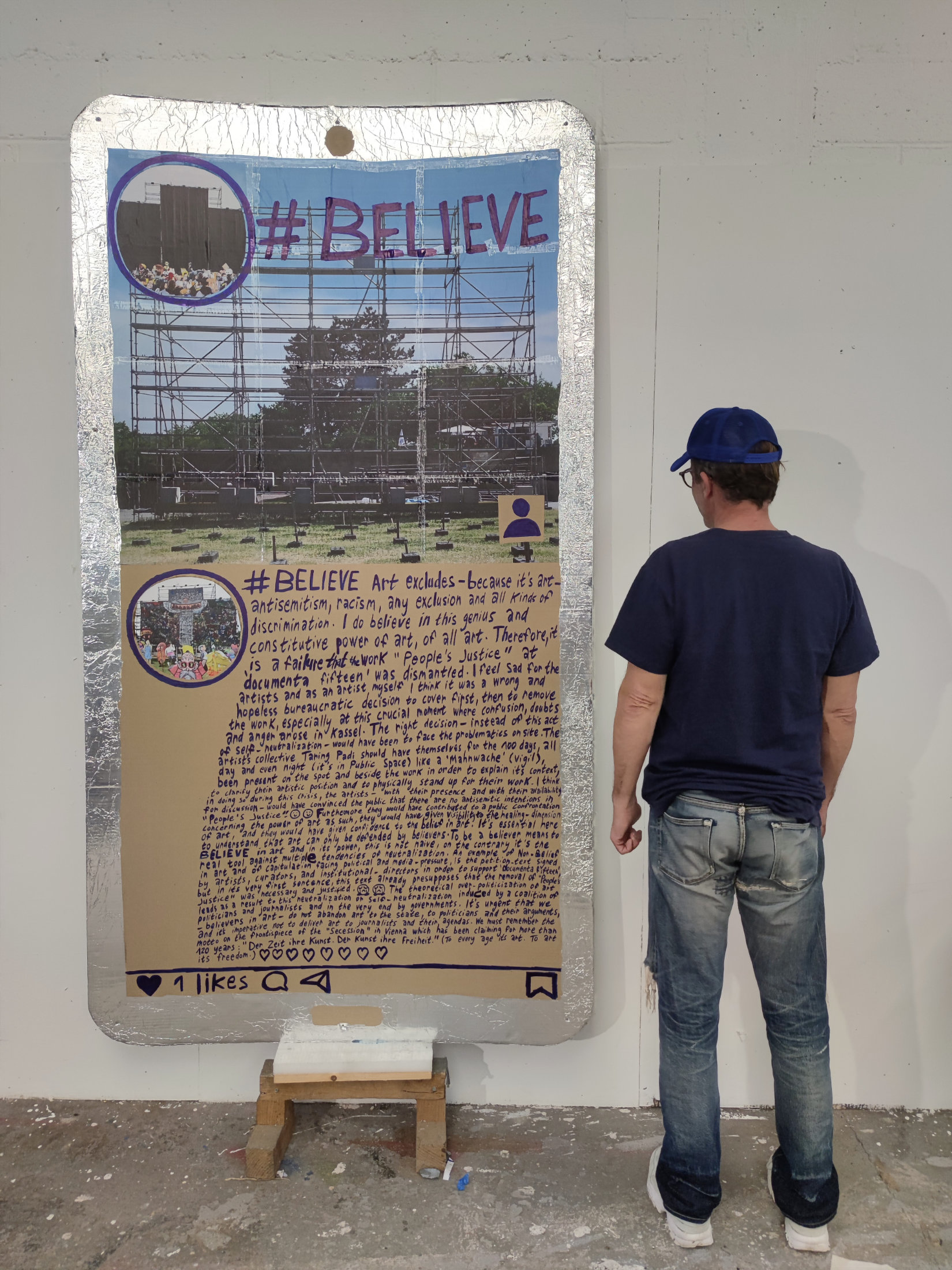 "# Believe", 2022 (studio view)
240 x 125 cm
Cardboard, wood, prints, felt-pen, tape
Courtesy Galerie Chantal Crousel, Paris
About "#BELIEVE"
The work "#BELIEVE" is a new work which can be categorized in the 'Influencer-Series' that I have been doing during the past two years. With this series of works I want to engage two things: I want to use the aesthetic of today's 'new language' tools which we all – or almost all – use: the I-phone, the computer-screen the I-pad, and the social media. I want to refer to this everyday actual aesthetic and use its codes in the simplists, rawest, and roughest way – when enlarging them as a quickly-made mock-up, as a bad copy, or as a silly appropriation. 
Beside this contemporary aesthetic and my 'poor' interpretation of it, I want to have – as many others – 'Influence', furthermore it is about having a larger 'Influencer'-mission, which means that I want to pay tribute to the fact that people want to engage with and have an influence, in a more or less serious way. I want to be an 'Influencer' without any irony, therefore I want to share my position, my thoughts, my ideas and do it with my words and my notions. 
In my work I do not comment the actuality, "#BELIEVE" – the work discussed here – might be an exeption. An exeption because the crucial issue of censorship in art and especially during 'documenta fifteen' needs to be pointed out urgently. With "#BELIEVE" I want to insist on the question of today's growing censorship and self-censorship, and also prepare for the future. As an artist, I feel even more concerned about this problematic. The handwritten text in the work "#BELIEVE" was, by the way, a post I published on my Instagram account in summer 2022. It asserts my position, a modest one but it is my testimony. It is important to assert – beyond the case of 'documenta fifteen' – ones own voice, as soft, as quiet, as low, as silent, or as noisy, loud, thunderous, or roaring a voice.
I truly believe – after the Covid-19-crisis – that the first lesson to take from it is to use, in the future, our very own voice instead of only letting the governement, the journalist, the politician, the scientific, the expert speak. This lesson needs to be drawn towards all kinds of matters: for cultural, ecological, economical, social, political, sanitary questions and decisions. 
To use ones own voice is a gesture of freedom and emancipation, it is not about power, nor any politician game. It is about standing up, remaining free, keeping awake, being concerned, and it is also about giving form to the beautiful assertion of Antonio Gramsci: "Every human being is an intellectual".